Since 2017, BTA Baltic Insurance Company AAS (BTA) supports the activities of World Wildlife Fund Latvia (Pasaules Dabas Fonds – PDF) and Nature Conservation Agency in restoration of the processes of nature and engages in events under the initiative "Do for Nature!" ("Daru labu dabai"). This year, BTA is going to donate EUR 0.25 from each Real estate insurance policy sold in May to the "Do for Nature!" activities, thus addressing its customers and urging them to be responsible for preservation on the valuable natural processes.
Being a socially responsible company, BTA keeps introducing the paperless concept in its operation, reducing the quantity of documents in paper form, and, going an extra mile, BTA takes care of restoration of territories of nature, supporting natural processes and creating natural environment. As one of its routes of social responsibility, BTA has selected preservation of treasures of nature and its restoration.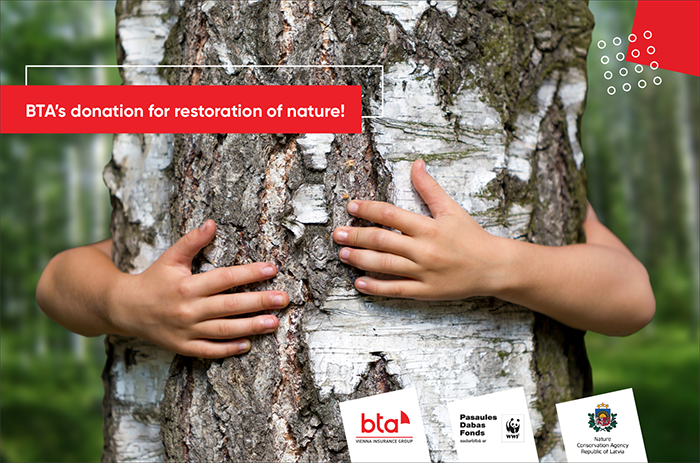 "To accomplish that, we were looking for professionals in nature restoration matters, therefore we have established a successful cooperation with the Pasaules Dabas Fonds and the Nature Conservation Agency. Last year we also supported the development of the initiative's website www.darudabai.lv, so that possibly broader range of Latvian population got to know about the support events, while for our staff in all three Baltic States we organized joint work sessions of nature restoration. Total for these two years, these joint work sessions have seen more than 350 BTA employees participating in 15 various locations in Latvia, Lithuania and Estonia, which means a total of several thousand hectares of areas taken care of. This year BTA staff members will have an opportunity to take part in 7 events across the Baltic States, spending the working day in nature, because there is still much to do, as we have seen. It is truly a pleasure to hear words of appreciation from the Pasaules Dabas Fonds and the Nature Conservation Agency, who are always happy to see us, as BTA employees take the joint work in nature very seriously," says BTA Management Board Member Evija Matveja.
"The decreasing biodiversity is one of the greatest environmental problems of today globally. The adverse effects of the decreasing biodiversity on human health, welfare, and development of national economy in general, are pointed out by specialists from various fields. In Latvia, we have established a trilateral cooperation among BTA company, the Nature Conservation Agency and the Pasaules Dabas Fonds for preservation of biodiversity. We hope that our initiative and things accomplished is going to serve as an inspiration for landowners for preservation of Latvian biodiversity," believes the director of Pasaules Dabas Fonds Jānis Rozītis.
In order to increase the public interest and encourage customers to take part in events of the "Do for Nature!" initiative, BTA will donate EUR 0.25 from each Real estate insurance policy sold in May to the Pasaules Dabas Fonds, thus we hope the call to join the "Do for Nature!" initiative will be better heard, and, instead of just taking walks in nature, making the public more appreciative of having recreation with an added value – restored and preserved natural riches in some beautiful location.
"We will continue the cooperation with BTA with pleasure, as human involvement in preservation of biodiversity and biotopes is of vital importance. Restoration of rapids, clearing meadows of biological value from bushes, countering invasive species, exposure of noble trees, bringing them out from shadow – this is but a small account of projects, which we invite to take part in, larger and smaller colleague or friend groups in entire Latvia," says the Director General of the Nature Conservation Agency Juris Jātnieks.
About BTA
BTA Baltic Insurance Company is one of the leading insurance companies in the Baltics, offering the broadest range of non-life insurance services in Latvia, Lithuania and Estonia. BTA employs more than 1,000 employees in the Baltics. The largest shareholder of BTA is Vienna Insurance Group AG with close to 200 years of experience in the insurance business. With about 50 companies in 25 countries and more than 25,000 employees, Vienna Insurance Group is the clear market leader in its CEE markets. Vienna Insurance Group is the best-rated company of ATX, the leading index of Vienna Stock Exchange with a rating of A+ with stable outlook from Standard & Poor's; its share is also listed on the Prague Stock Exchange.
About PDF
Pasaules Dabas Fonds is the associate partner in Latvia of the World Wildlife Fund. Pasaules Dabas Fonds operates in Latvia since 1991. The mission of the organization is to build a future, where people and nature coexist in harmony. The mission of Pasaules Dabas Fonds is nature protection to preserve the genetic, species and ecosystem diversity, to take care of non-depleting exploitation of renewable natural resources now and in the future, to help reducing the pollution and wasteful consumption of natural resources and energy.
About Nature Conservation Agency
Nature Conservation Agency takes care of managing and handling of natural areas in Latvia under special protection to contribute to preservation of our natural riches and their sustainable use for public welfare and healthy environment. The Agency's daily routines as well as specific projects involve restoration and preservation of biotopes, development of guidelines and recommendations for advisable management forms to sustain biodiversity, monitoring of the spread of various species in Latvia.
Additional information:
Elīna Rasmane
Marketing and Public Relations Department Director
BTA Baltic Insurance Company AAS
e-mail elina.rasmane@bta.lv
Sarmīte Kolāte
Head of communications
Pasaules Dabas Fonds
e-mail skolate@pdf.lv
Mobile: 26528198