BTA: Sudden Thaw Increases Number of Personal Accident Insurance Claims per 25%; Black Ice, Potholes and Snow Falling off Roofs Endanger Drivers
As the thaw and rain came across Latvia lately, here and there the condition of roads has become dangerous for daily routes – people risk slipping on the streets and be hit by lumps of snow. BTA Baltic Insurance Company (hereinafter – BTA) reveals the statistics that this week the number of insurance claims for personal accidents, submitted to BTA, has increased by 25%, compared to the previous week, and CASCO Insurance clients are reporting ever-growing number of collisions or sliding of the road due to the black ice, as well as they report damages to their vehicles due to accidentally driving into a pothole or due to snow or ice lumps falling off the roofs on their vehicles.
Rain, fluctuating temperatures and sudden thaw has turned the uncleaned and ungritted streets into smooth ice, which makes it difficult and dangerous for people to walk them and leads to injuries very often. According to BTA's statistics, in the first three days of this week the number of insurance claims for the traumas rose by 25% – that includes traumas on slippery roads or while doing winter activities. Some people had small bruises, but some had more serious injuries, like concussion, bone fractions, meniscus tear etc. This January BTA has already disbursed 134 thousand euros in compensations for injuries, sustained from falling on slippery roads, enjoying winter activities or during everyday life.
With the change of weather, roads and highways are becoming dangerous for drivers, too. Despite that the temperature is above 0 during the day, at nights it sometimes slides below 0, which leads to formation of the so called black ice. In such conditions, the risk of traffic accidents rises due to inappropriate choice of speed or due to keeping insufficient safety distance. For example, this week BTA received several insurance claims, where the probable cause of an accident was the black ice. One of such accidents happened in Priekuļi Region, near Bērzkrogs. Probably it was due to black ice, when Volvo truck trailer started sliding and turned over. The vehicle was terribly damaged in the accident and most probably will be unrepairable. Currently the planned indemnity sum may reach 75 thousand euros. Another accident, probably caused by the black ice, too, happened on a highway between Nereta and Ilūkste. A client lost control over his Ford, which started sliding, ran off the road into a ditch and rolled over. This accident has caused severe damage to the vehicle, too. The planned indemnity sum may be around 7 thousand euros.
This year is no exception, when it comes to thaw – potholes appear on the roads out of nowhere. "During the last few days we have received insurance claims from more than 10 CASCO and CASCO Potholes policyholders, whose cars had serious damages of tires, having driven into potholes," admits Iveta Rijniece, the Director of BTA Insurance Claims Handling Department. "The bad condition of pavement on the roads leads to big bills on repair of damages, caused by it. For example, last year a client, driving a BMW of 2011, drove into pothole and damaged tires, disks, bull bar and front lights. The indemnity for repairs of these damages was about 1500 euros. And there are dozens of such cases. Yet it should be mentioned that such damages are indemnified only under CASCO and CASCO Potholes insurance policies. Taking into account the weather forecast, we should be expecting the "second wave" of winter, and it will probably damage the pavement on roads even more, and the potholes will be a serious threat to drivers. So we predict that the number of insurance claims for damaged vehicles, which were caused by driving into a pothole, will exceed last year's level, since in 2014/2015 winter season the weather was rather favourable for drivers."
Having analysed the insurance claims received this week, BTA is asking all drivers to be more cautious, when parking their cars. According to BTA's statistical data, in the first three days of this week more than 10 clients have filed insurance claims to BTA about damages to vehicles, caused by snow and ice lumps falling off roofs, damaging vehicle's body, hood, windscreen and even vehicle systems. The snow falling off roofs has damaged several vehicles in Riga, Bauska, Valmiera, and one client experienced such unfortunate situation in the capital of Lithuania Vilnius.
BTA advises drivers to clean the snow from the entire car, not just the windows, when using it in winter season, since the snow, remaining on the roof of the vehicle, may cause a traffic accident and be endangering the safety of other road users. For example, this week BTA received an insurance claim for compensation of damages to a vehicle, which were caused at the moment, when a truck was making a turn and a lump of ice slid off its roof, damaging on the windscreen and turning light lamp of a Volvo, driving the opposite way.
In January BTA has already disbursed insurance indemnities in the amount of 1.3m euros for various damages of vehicles.
BTA is suggesting the drivers to be more careful and attentive on the road, choosing an appropriate speed and keeping the distance, and keeping in mind that every puddle on the road may have a pothole beneath its surface, and, if possible, the driver should drop the speed seeing it ahead.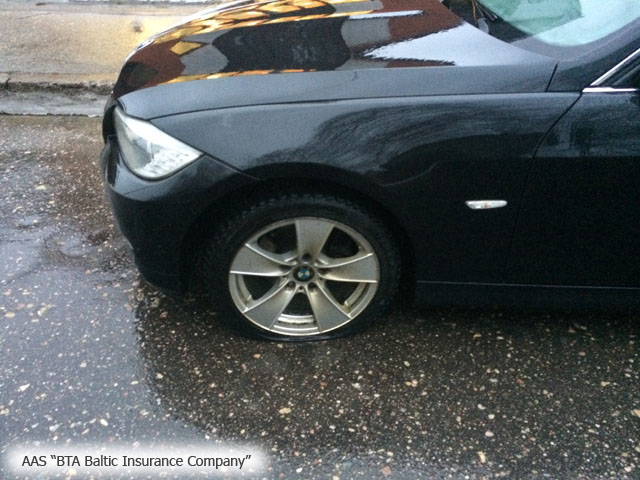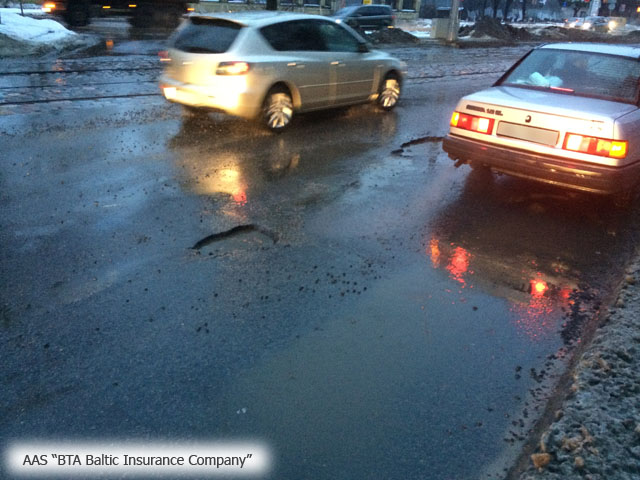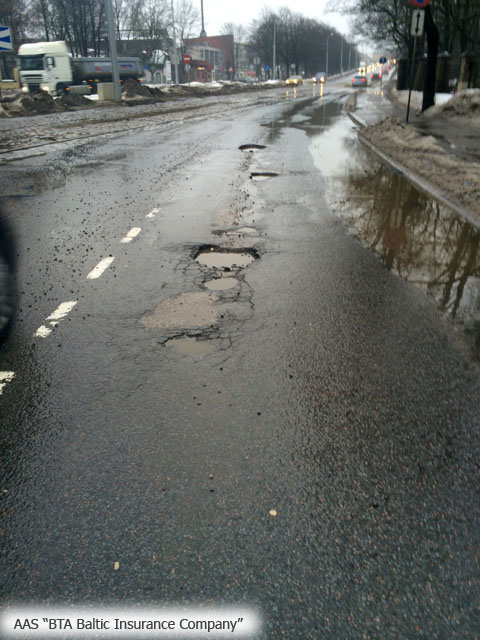 AAS BTA Baltic Insurance Company was founded in 2014, after reorganisation of BTA Insurance Company SE, performing successful division of the company according to the geographical distribution of its business operations: Baltics and rest of Europe. BTA Insurance Company SE, being a mother company of AAS BTA Baltic Insurance Company, has been successfully operating on insurance market for more than 20 years, in 2009 becoming the third biggest insurer in Baltic States. The international growth of BTA is proven by the TOP 500 of Central European Companies issued by the international auditor company Deloitte for year 2013, where BTA ranks among 50 largest insurance companies in Central Europe.
BTA is one of the largest indemnity payers in Baltics. Last year BTA has paying insurance indemnities in Baltic States in average amount of 284 thousand euros every business day, which makes it 36 thousand euros every working hour.
More information:
Agnese Grīnberga
Public Relations Manager
AAS BTA Baltic Insurance Company
e-mail: agnese.grinberga@bta.lv
Phone: +371 67025661, mobile: +371 27828796