An opinion poll confirms the great significance of our loved ones in our lives – 55% of residents in Latvia would ask their loved ones or friends for help, and not the bank, should they lose the largest part of their belongings in a fire. The results of an opinion poll taken by BTA Baltic Insurance Company AAS (BTA) testify that 90% of state residents have at least two persons among their relatives and friends they can always rely on in an emergency.
Family remains our greatest pillar of support
Respondents of the poll taken by the Insurer BTA were asked whom they would ask for financial aid should the need arise, and, most of time, 36% of the pollees, indicated family, while 19% more indicated friends. The fifth part or 21% indicated they would try to save up themselves, while only 20% would seek help at lenders. To comment upon the data of the poll, Chairman of BTA Board Jānis Lucaus emphasized the major role traditions and family plays in our society: "Notwithstanding great many talks about widespread crediting within the last couple of years, the results of the poll show that the first aid in case of a considerable misfortune shall be provided by our loved ones. The results of the poll testify that the support provided by the people in our lives is strong. It is laudable of residents to have no fear of discussing their problems with their loved ones and solving them together. However, one should be careful because sharing one's responsibility with others might become a too much of a challenge for your relationship, that is why it is better to take care of risks timely", warns Jānis Lucaus.
It is never too much of support of the people in your life
Respondents of the poll taken by BTA were also asked if they were satisfied with the support provided by the people in their lives. It's a comfort to know that 69% of residents assess it positively, testifying that they are satisfied with support provided by their loved ones and their colleagues. At the same time, the poll shows that 31% of the residents of Latvia do not receive sufficient support and frequently feel they are left alone when in need. Notwithstanding that the overall satisfaction is high, the largest part of the pollees did not conceal that situations displaying insufficient support of the people in our lives, when one has to fight their problems on their own, do occur from times to times. The forth part of respondents indicated the lack of support as one of the major reasons of their inability to meet their obligations and to bear the responsibility in their life.
Most of the time we have 2 to 3 persons we can always rely on
The poll data reveal that 45% of residents in Latvia have two to three persons to ask for help, while 31% of residents have even four to six persons among their relatives and friends to answer an emergency telephone call at all hours. Only 10% of the pollees had one or no person to support them. "Results of the poll testify that strong families live in Latvia and friendship relations particularly cherished. Being responsive, making concessions, helping out this is what strikes our eye when examining and reading the answers of the pollees in detail. Latvians share a saying "A friend in need is a friend indeed" for a reason. It is true because Latvians share their daily worries with these particular people most of the time. They help us out to find a way to cope with our problems, thus, the factor of a person in your life to support you is very important in order to counter challenges in general. It is far easier to be responsible when you have someone by your side to support you", notes Chairman of BTA Board Jānis Lucaus.
In Latgale the loved ones' support takes on even more importance
Upon reviewing the results of the poll, response provided by the residents in Latgale show up testifying an even higher value set on support provided by family and friends, confirmed by 75% of the polled latgalians. While residents of Kurzeme would save up the required assets by themselves more frequently than in other regions. As for the support received, less support of people in their lives is provided to residents of Vidzeme and Zemgale compared to other regions. It was indicated insufficient by 37% and 39% respectively. Remarkably, different age groups present no significant difference, except for persons aged 45 and above, whose social circle providing support has stabilized and enlarged in the course of time.
BTA Baltic Insurance Company AAS has taken an opinion poll aimed at establishing how easily residents of Latvia handled responsibility in June 2017, surveying 805 respondents across Latvia.
BTA Baltic Insurance Company is a major insurance company in the Baltic States, offering the broadest range of non-life insurance services in Latvia, Lithuania and Estonia. The largest shareholder of BTA is Vienna Insurance Group AG, one of the leading insurers in Europe with 190 years of experience in the insuraance field. More than 50 companies in 25 countries constitute the group, which employs 24,000 employees. Vienna Insurance Group AG is a clear leader in its core markets in Europe maintaining high rating of financial stability - "Standard & Poor's" A+ (stable outlook), with a listing on the Vienna and the Prague Stock Exchange.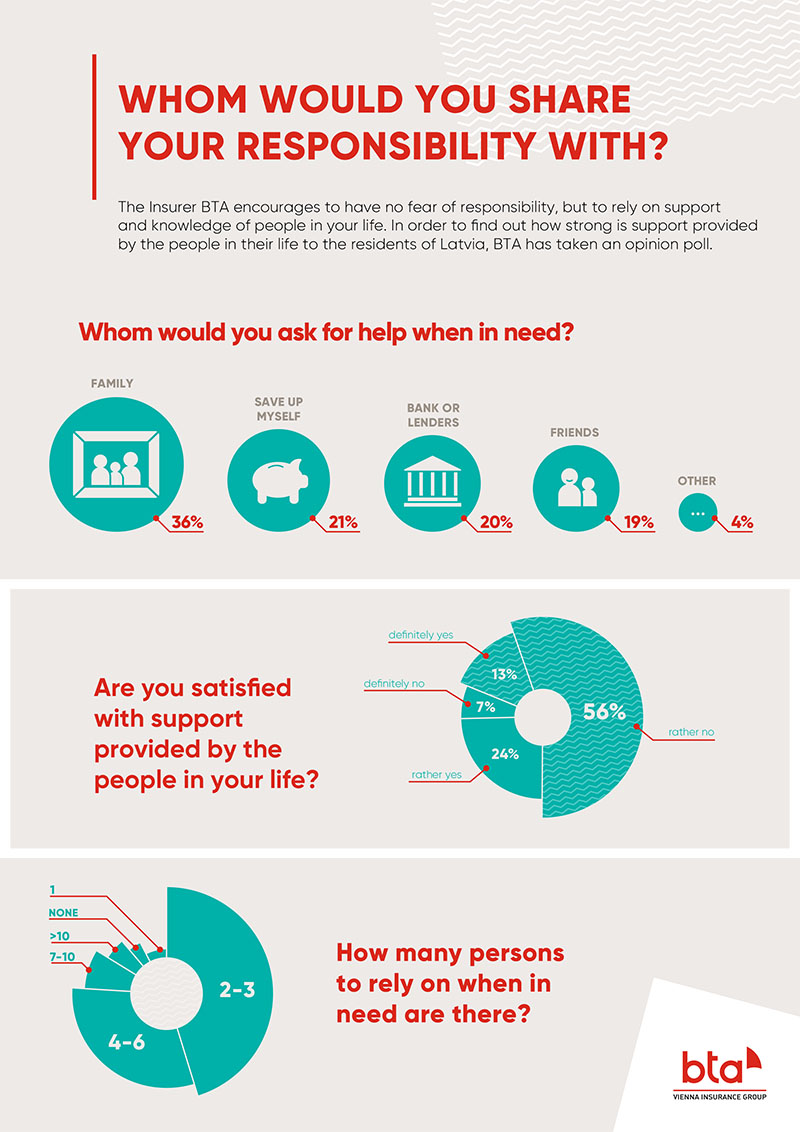 More information:
Elīna Rasmane
Marketing and Public Relations Department Director
BTA Baltic Insuranc e Company AAS
email: elina.rasmane@bta.lv
phone: +371 67025676, mobile: 29374827