BTA Baltic Insurance Company AAS (hereinafter – BTA) reminds that there are material differences between personal accident insurance and travel insurance, in terms of policy covers, as well as their price. Personal accident insurance is obtained to a longer period of time, while travel insurance – to a particular travel time.
BTA reminds – travel insurance does not cover occurrence of critical diseases during a trip, while personal accident insurance excludes simple diseases, repatriation expenses, terrorism risks, luggage and passport return or renewal expenses.
Travel insurance is purchased by people, willing to spend their trip safe and without unnecessary concern. It can be obtained to a period starting with one day up to 365 days. When selecting Travel insurance policy, one should consider the probability of potential risks at the travel destination, the planned activities and the risks they entail.
At the moment, BTA is the only insurer in Latvia compensating the expenses for tickets in case of concert cancellation to those having obtained travel insurance.
Personal accident insurance is advisable to those, willing to protect themselves against unforeseen expenses brought by a personal accident. A common cover of a personal accident policy usually includes expenses incurred due to sustaining an injury as a result of which medical assistance had to be sought. The policy can be obtained, selecting among various options of effective time, for instance, 24-hour, during working hours, with commuting to and from work included, during workout, etc., and with different effective territory options (Latvia, Europe and the entire world).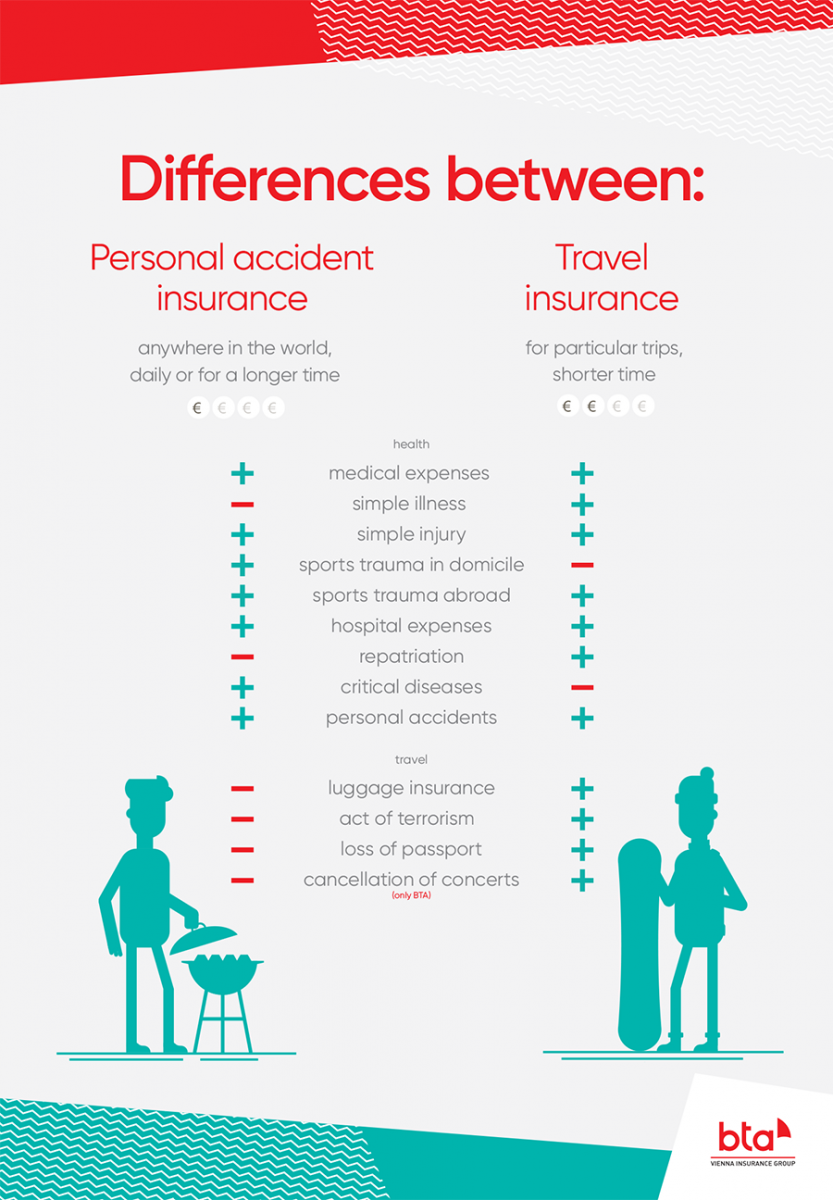 About BTA
BTA Baltic Insurance Company is a major insurance company in the Baltic States, offering the broadest range of non-life insurance services in Latvia, Lithuania and Estonia. The largest shareholder of BTA is Vienna Insurance Group AG, one of the leading insurers in Europe with 190 years of experience in the insurance field. More than 50 companies in 25 countries constitute the group, which employs 24,000 employees. Vienna Insurance Group AG is a clear leader in its core markets in Europe maintaining high rating of financial stability – Standard & Poor's A+ (stable outlook), with a listing on the Vienna and the Prague Stock Exchange.
Additional information:
Elīna Rasmane
Marketing and Public Relations Department Director
BTA Baltic Insurance Company AAS
e-mail elina.rasmane@bta.lv