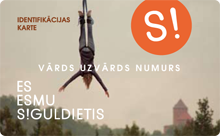 Present the Sigulda ID card at BTA customer service centres in Sigulda and get the following discounts for BTA services:
CASCO Insurance – 10 %
Property Insurance – 15 %
General Civil Liability Insurance – 15 %
Travel Insurance – 20 %
Special offer is valid till 31 December 2017
Discounts apply to individuals who conclude a new insurance contract at the TA customer service centre in Sigulda at Ausekļa iela 5 or Siljēkās (Sigulda Road Traffic Safety Directorate). Discounts do not accumulate.
More information on the Sigulda ID card can be found here.